A Connection You Can Really Rely On
Surf, Stream, and Connect More Easily and Securely with WiFi-Pro
Powerful whole-home Wi-Fi
Get a strong Wi-Fi connection in every corner of your home and advanced mobile app features—parental controls, built-in malware and virus protection, and more—with WiFi-Pro. Plus friendly, local support from our Sherwood Broadband support team!
Get it FREE with Enthusiast and Gamer plans OR add to your Surfer or Streamer plan for just $15/month.
Total control in the palm of your hand
WiFi-Pro's enhanced capabilities include safeguards against online threats, device and parental controls, and the ability to regulate who can connect and when. Keep your family safe online, set and enforce screen time limits, and more—all from the Sherwood Connect App.
ExperienceIQ: Protect your family
WiFi-Pro includes ExperienceIQ, giving you the ability to have tailored content control appropriate for everyone in your home. You can manage screen time, monitor websites and apps, and set up custom content filtering across all your family's connected devices. 24/7 peace of mind has never been easier.
ProtectIQ: Protect your home network
ProtectIQ is a built-in 24/7 internet watchman, putting a shield between your devices and viruses, malware, and other bad actors. With multi-layered protection, even your most vulnerable devices (e.g. Smart TVs, thermostats, security cameras) are safeguarded from threats.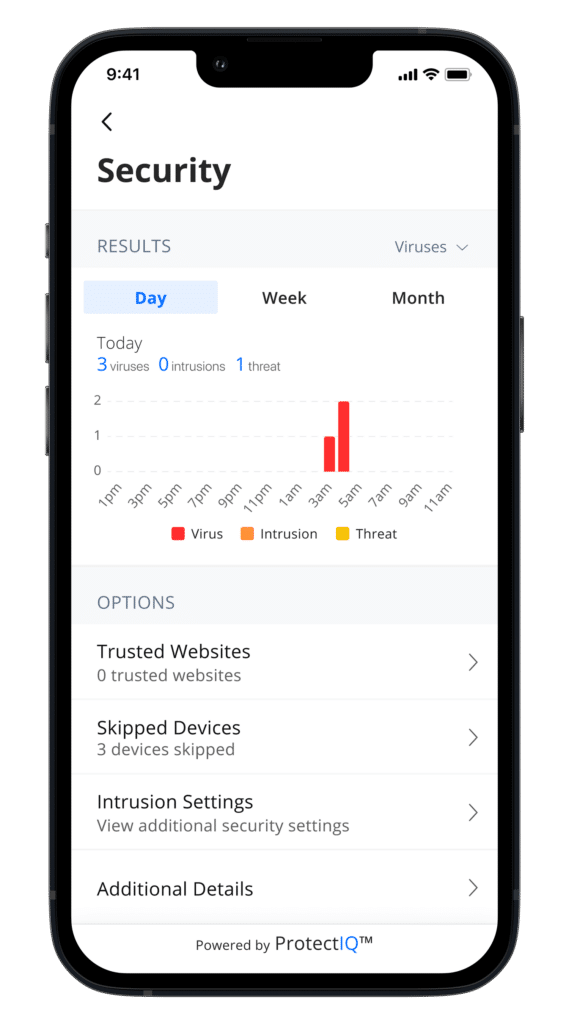 Get the best Wi-Fi experience
WiFi-Pro is included for FREE on the Enthusiast and Gamer plans!
Goodbye forever, dead spots! With WiFi-Pro, you'll get a strong signal in every room—yes, even your garage. Your subscription includes a rental of Sherwood Broadband's top-of-the-line Wi-Fi 6 router and Wi-Fi mesh system to keep you connected no matter where you are in your home. Plus, your equipment is fully supported and maintained by Sherwood Broadband, for quick assistance when you need it. WiFi-Pro is included for FREE on the Enthusiast and Gamer plans and can be added to the Surfer and Streamer plans for $15/month.